The important matter of gates
THE IMPORTANT MATTER OF GATES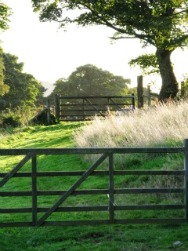 Fields aren't enclosures, of course, until the gateways have gates. I had an idea that every part of Britain had its own regional style of gate, so it clearly made sense, if we required gates, to have local ones. I was also fairly sure that gates were traditionally made from oak or elm or ash or larch, or split chestnut, or some other noble and ancient-sounding British wood, that they should be pegged together with wooden pegs, rather than nailed or bolted, and that such gates, without supplementary treatment, should last a lifetime.
When I started checking them out, however, the gates available signally failed to match these criteria. There was no shortage of companies offing ready-made gates, but they all looked the same. Timber gates were offered in a standardized, diamond-braced pattern of various widths, mainly in 'tanalised'
or treated softwood that gave them a sinister green tinge. All were held together with clearly visible galvanised bolts.
Enquiries about regional patterns, British hardwoods and wooden pegs drew indifferent response of the 'Nah, no call for it, mate' school.
Then, a
t the annual Royal Welsh Show, I picked up a little book entitled
Gates and Stiles.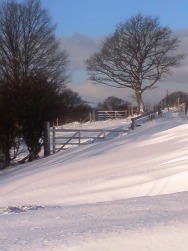 Here, in one slim volume, was all the information I'd wanted—even a surfeit perhaps. It was crammed with photographs of lychgates and tapsel gates, wrought-iron gates and cleft chestnut gates, and hewn stone posts in every regional style. 'You will probably find, once you have read this book,' boasted the author, 'that as you drive along the country lanes in future, you will see the gates you pass with entirely new eyes.'
And, goddamit, he was right. I became a connoisseur of gates and gateways, though I still wasn't quite sure what their fascination was. In the book was a series of maps showing, county by county, exactly which pattern of gate belonged to each region.
Some had five bars, some six, and the permutations of bracing seemed endless, from the crudely rudimentary to the frankly finicky. The design for a Monmouthshire gate, however, was one of the simplest. Unfussy and elegant, its braces and struts gave a pleasing vertical emphasis while also, conveniently, forming the shape of an 'M'. I couldn't recall actually having seen one, but this was clearly the gate for Tair-Ffynnon.
Chapter 9, The important matter of gates
All photographs and text except where otherwise stated © Antony Woodward and Verity Woodward.